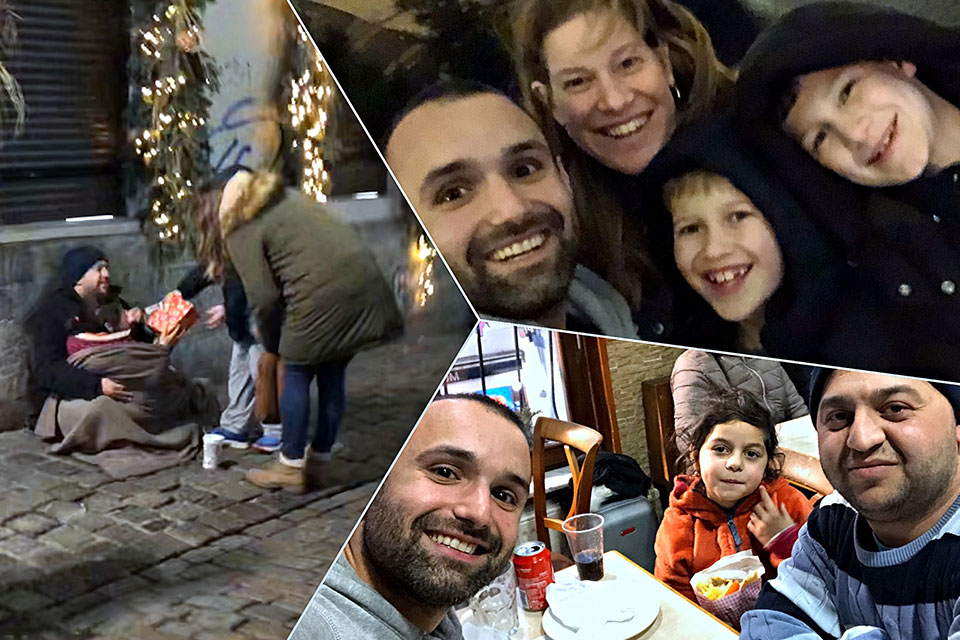 A Homeless Family and a Kebab: this is how Xmas happened to me for the first time
May this personal story inspire you.
It was December 24th, 2017, and I was alone in Brussels for Xmas. Brought up in a Jewish home, I had never really celebrated any of the year-end rituals. So I thought I should change that. That's why on that night, I went out hoping to have my very first owned Xmas evening experience.
I wanted to start it right. So I went to church. I was curious. It turned out I found myself deeply involved in meditation while following the mass and listening to the heart-warming Xmas carols.
Without any plans, after leaving the church, I went for a walk. While I made my way to the city center, I noticed families, couples and friends all in festive mood. It was so contagious. I remember it made me walk around smiling at the world for no reason. Looking back, it might have seemed a bit weird for observers, I must say. At that point in time, little did I know I was making my way to the turning point of that evening.
Random Acts of Kindness generate Kindness
I took a turn near the city's main square and there I saw a lady handing a wrapped gift over to her two sons and instructing them to go give the package to a young girl who was laying in the arms of her father who was sitting covered in a blanket with his arms out begging for money on the streets. What a moment! I stopped and watched the scene unfold. I was so inspired with what I witnessed that I immediately stretched out for my phone in my pocket and snapped a picture of the moment when the act of giving actually happened.
After that, I ran after the lady and her children to tell them I had taken a picture. They were all in awe! That beautiful moment was memorialized in an image for them. They were extremely grateful. I sent them the picture, we talked about their gesture - how beautiful it was - and we ended up finding out the mother and I had social welfare as a common interest. What a great family! They were also Jewish by the way. After some minutes talking, we exchanged best wishes and waved goodbye (not before we took a selfie of course!)
After they left, I stood around with a smile on my face feeling like my role in that story had not yet ended. That's when I decided to approach the man and his daughter on the street. I asked for permission to kneel down next to them and introduced myself. Their names were Mario and Maria.
They were homeless foreigners living in Belgium. The father could speak good French. With the daughter, I spoke only "PLAYish" as we both enjoyed her brand new toy.
As we talked, their background story immediately surfaced: the father had been promised a job he never got and the money he had saved to start his life in Belgium was already gone. This was the reason he was begging - hoping to be able to make his way back home.
I was touched and I wanted to hear more. No! I wanted to do more! So I thought: if standing in the corner in the cold was all that family had as a plan for their Xmas evening, why not invite them to be my guests for my very first Xmas dinner? Wow! I will never forget the joy in that man's face when I brought up the invitation and the reaction of his daughter who nodded her head and opened up her eyes in happiness as her father translated to her that they were being invited.
I helped them get up from the floor and we started to take a walk. The girl was happy to hold hands between her father and myself. As we made our way, I realized Brussels had now one more family in festive mood walking around and making others smile. I felt blessed.
A Kebab for Xmas
My invitation followed by me giving Mario the choice to choose a place for us to eat. He said all he wanted was a simple thing. When he asked Maria, the only thing she wanted was French fries and a Coke. My heart was softened. I told them they could choose anything they wanted. They insisted on something simple. So at the end, Mario asked if it would be OK for us to have a Kebab, fries and a coke.
And this was how I celebrated Xmas in 2017: I had the B.E.S.T company I could wish for at the table with me. And that was the B.E.S.T. Kebab I've ever had.
I have no words to describe how much joy there was around that table as we sat and enjoyed our meal! Mario's stories, Maria's smile. Oh my!
You know? I may not have followed any Xmas tradition, but I know for sure that I lived the ultimate experience of the Xmas spirit - I experienced L.O.V.E. in its most human form.
After dinner, I waved goodbye to Mario and Maria and handed over an additional donation to help them get safely back home.
On that night, I felt like the happiest man on the planet. The lonely Jew who lived his very own Xmas miracle. May these lines partially copied from my writings inspire you this year for Xmas and all year round.
Happy holidays, world! I belong to you!