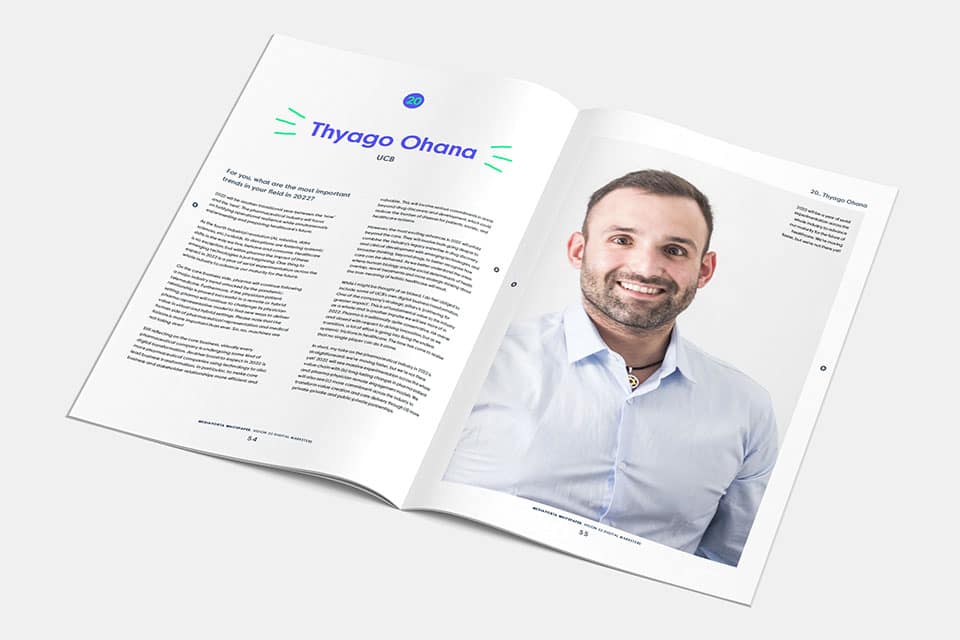 2022 Trends and practical tips for the pharma industry
I was asked, among 22 digital experts from Belgium, to share my vision and some practical tips for 2022. My answers were published in the whitepaper published by Mediaforta, and it is a fantastic compilation of insights from across industries.
To read the full document (recommended!), please visit  Mediaforta's website to download the whitepaper. To read my insights as published in the paper, scroll down.
Download Mediaforta Whitepaper
For you, what are the most important trends in your field in 2022?
2022 will be another transitional year between the 'now' and the 'next'. The pharmaceutical industry will focus on fortifying operational resilience while simultaneously experimenting and preparing healthcare's future.
As the fourth industrial revolution (AI, robotics, data sciences, etc.) unfolds, its disruptions are fostering systemic shifts in the way we live, behave and consume. Healthcare is no exception, but within pharma the impact of these emerging technologies is just beginning. One thing to expect in 2022 is a year of serial experimentation across the whole industry to advance our maturity for the future.
On the core business side, pharma will continue following a major industry trend unlocked by the pandemic: telemedicine. Furthermore, if the physician-patient relationship is proved successful in a remote or hybrid setting, pharma will continue to challenge its physician-pharma representative model to find new ways to deliver value in virtual and hybrid settings. Please note that the human side of pharmaceutical representation and medical liaisons is more important than ever. So, no, machines are not taking over!
Still reflecting on the core business, virtually every pharmaceutical company is undergoing some kind of digital transformation. Another boost to expect in 2022 is more pharmaceutical companies using technology to also lead business transformation, in particular, to make core business and stakeholder relationships more efficient and valuable. This will involve serious commitments in areas beyond drug discovery and development, which could reduce the burden of disease for patients, society, and healthcare systems.
However, the most exciting advances in 2022 will unfold beyond the core. They will involve both going deeper to combine the industry's legacy expertise in drug discovery and clinical development with emerging technologies, and broader thinking, beyond drugs, to better recognise how care can be delivered. As we better understand the areas where human biology and the social determinants of health overlap, novel treatments and more strategic thinking about the true meaning of holistic healthcare will result.
While I might be thought of as biased, I do feel obliged to include some of UCB's own digital business transformation. One of the company's strategic pillars is 'partnering for greater impact'. This is of fundamental value to the industry as a whole and is another impulse we will see more of in 2022. Pharma is traditionally quite conservative, risk averse and closed with respect to driving innovation, but as we transition, a lot of effort is going into fixing the endless systemic frictions in healthcare. The time has come to realise that no single player can do it alone.
In short, my take on the pharmaceutical industry in 2022 is straightforward: we're moving faster, but we're not there yet! 2022 will see massive experimentation across the whole value chain with (a) long-lasting changes in pharma-patient and pharma-physician remote engagement models. We will also see (b) more commitment across the industry to transform value creation and care delivery through (c) more private-private and public-private partnerships.
Which two practical tips would you give the reader?
TIP 1: Your strategic intent is as good as your community's collective intelligence about it
Whether you are leading internal change or managing new relationship models with your suppliers or end-customers, remember that your strategy is only as good as the number of people you have managed to truly connect and engage with. As humans, we are today and more than ever before seeking meaningful connections and purpose in everything we do. No matter which industry you are involved in, we are all gradually shifting from managing assets to managing interactions. Thus, the collective intelligence about your persona, product, service or brand fluctuates in direct proportion to the most valuable asset in market of the future: trust.
TIP 2: Instead of focusing exclusively on customer value, consider maximising ecosystem value
Platform as a business model is not new. What is rather new, however, is that the most defensible market positions underpinning virtually every giant in the world today are not just about making one single part of the market happy — but many. Challenge yourself about how to transform your products or services into platforms by leveraging network effects that create value for the whole ecosystem. Here is a three-pronged, initial question:
How might you create value for your existing customers by...
a ...opening the door to third parties,
b ...connecting your existing customers and
c ...reaching out to your customers' customers?