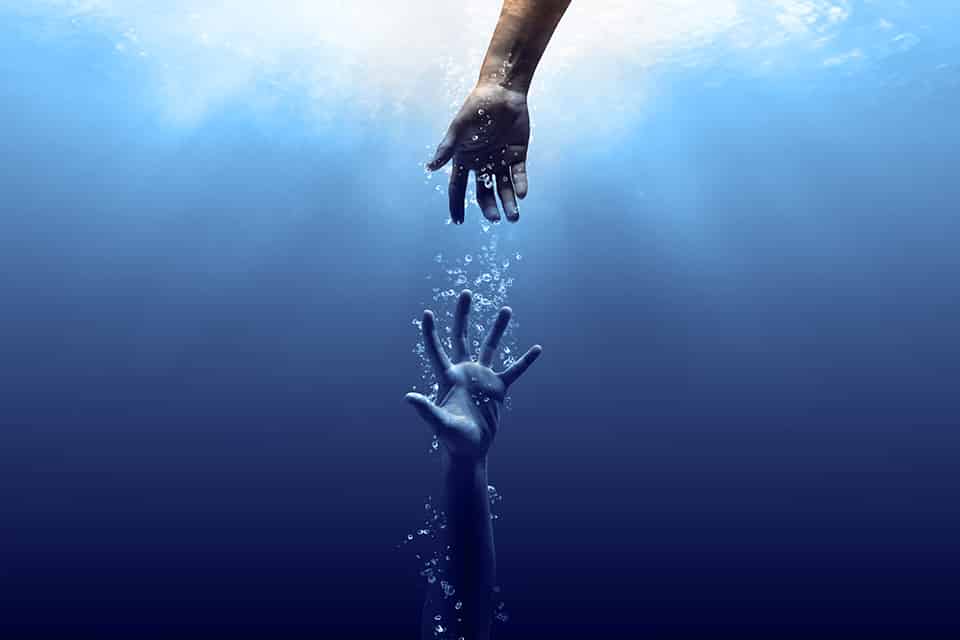 This is the DAM thing every marketer should know – Have you 'met-a-data'?
When you look at this article's cover picture, what do you see?
Maria, a healthcare social worker from Spain, describes this image as the very purpose of her life and work: reaching out to people facing life-threatening diseases and saving them from emotional stress. Maria sees HOPE in the image.
Martin, a pulmonologist based in Germany, who works with patients at high risk of smoking-related diseases and mortality, sees DESPAIR in the picture. He finds it provocative enough and chooses to use it for a smoking-cessation campaign for his clinic.
Hold on a second! Does the image show HOPE or DESPAIR? Who is right?
Well, both Maria and Martin have been spot-on on what they see in the image. Maria puts herself in the shoes of the one arm reaching out from above (the hero), while Martin puts himself in the shoes of the one going down below (the victim).
In the example above with this article's cover picture as well as with every single piece of digital media - be it a still image, some text, an animation, a video, a piece of audio or any combination of these and other types of rich media - the viewer and the context play crucial roles in describing what is seen. The asset itself is immutable. It is the information used to describe it that varies. Behold! This is the very essence of Digital Assets Management (DAM). Just like that, you know now what metadata is all about! But what is metadata?
More is Less: Metadata turns files into assets
Imagine owning a library of a million books and finding that every single book on the shelves have their spines turned towards the inside of the shelf. The only things you can infer about each book is how big, how thick, maybe how old it is, but that's about it! Searching for and finding the right book in this library is almost mission impossible. So tell me: is this library of books really an asset for you? Or is it just a collection? Let's see.
Now call the collection of digital media a company owns a library of a million files. Would we like to have it catalogued on the shelves with their spines towards the inside? No, of course not! That's why we take our time to give each file a name. Great! Giving it a name is akin to turning the book spines to the outside. Now we can easily navigate through all file names to search and find what we need. But is it enough? Well… no, right?
So let's review one thing, if it is clear that a library of books must be managed with more than just "naming the book", it should be clear for us that a library of files should be managed with more than just giving the file a name, correct? Despite the obvious, the truth in respect to this is that numerous companies worldwide still struggle with managing their digital libraries, which are nothing else than a collection of files, and not really assets to the  company.
This is exactly where metadata comes in. Metadata is information used to describe some other data. Thus, the MORE of well-schemed metadata you have, the LESS time, the LESS effort will be needed and the LESS friction there will be to navigate through your collections. It is therefore Digital Asset Management (DAM) and metadata that empower a company's files to become a company's assets. After all, you can't use what you can't find!
And here's where the split between failure and success in DAM starts: while it is clear for everyone that a file must be given a name, successful DAM infrastructures take their time to do it right and upskill users on the power of metadata. In very straightforward words, this means: Educating users that DAM is a not an asset junk drawer; it is a functional platform powered by tags (metadata) that allow us to store, organize, find, summarize, report, share and localize content/assets.
Take the DAM serious
We know now the crucial role users play in DAM. But it does not stop there! There is a lot more human-powered decision-making to this technology-intense topic than it meets the eye. While users feed the system with content, it is the DAM Librarians who make sure everything that goes into it remains organized, quality-assured and properly tagged. That is to say, they are the ones who make sure your 'books' are in the right shelf, with their spines facing outward, with the 'library insert card' properly filled and and and… As bold as it sounds, a company's DAM may be as smart as its DAM librarians allow it to be. So yeah, show these guys some respect! 😉
If you've read this far, you might be wondering: "Seems like this article suggests metadata and librarians are the heart and soul of DAM." If that's what you got so far, you are right, BUT… (Of course there's always a but!) it is important to remember that DAM will not solve all your digital assets/content-related problems at once. However, it may easily serve as a great basis for all of your solutions in the long run. To enable this, take the DAM serious!
The DAM value for business
First of all, DAM is a not a time-bound project that ends after every user has got access to the system. While a company's DAM may start with a platform roll-out and an adoption campaign that last a couple of months or even years, DAM is a program that transcends this phase. After all, users and librarians will change over time. Assets will change as well; they will be reused, becoming new assets that are adapted, localized and even repurposed. Processes around assets will also change; new distribution, approvals and collaboration routines will come into place. There is one thing constant throughout this evolution, though. It is called metadata. - Well yeah! Metadata is a big thing! Like REALLY big!
So, while DAM evolves with the company, it becomes more and more intelligent thanks to the amount of information gathered for its assets. It extends a company's data longevity and unlocks the real value of information by allowing more people to reuse digital assets over the long run. But how to translate this into practical value for business? …for customers?
Well, let's get back to where we started. Imagine this time we had not shown the article's cover image to Maria and Martin, but instead asked them to perform a search inside any given DAM for the following:
Maria, search for an image that describes the very purpose of your life and work. - Maria's search could look like this: #Hope #Hero #Saving #Rescue
Now Martin, search for a provocative image for your clinic's smoking-cessation campaign. - Martin's search tags could be: #Despair #Victim #Sinking #NoAir
Two users. Two cases. Two searches. ONE result! God bless metadata!
And this is where the simplest yet most powerful aspect of DAM translates into value for business: it helps delivering data-driven value by understanding that customers, much like Maria and Martin, are different. Had that image been (meta)tagged by/for Martin only, without taking into account the needs and views of Maria, she would probably not find that image when searching for #HOPE, and that asset would be lost in the collection of #DESPAIR.
If content is KING, metadata is the "Hand of the King"
If GOT means nothing to you, ignore this headline 😉
To close, here's some curiosity: statistics have shown that it costs a company on average USD 5,000 for every asset-misuse incident caused by default in metadata. (Source: Brandfolder) So what are you waiting for? Go schedule a call with your company's DAM librarian and learn all you should about your company's own metadata schemes.
Remember: Digital Assets Management is not about making life easy. Well, it does! But DAM means a lot more. It means delivering customer-centricity for both Marias and Martins of your world. It means responding agile to both HOPE and DESPAIR. DAM! (pun intended!)